You can't have missed the fact that the largest ever sporting event to be held on the island of Ireland is happening this week!  It's bound to be a success – tickets sold out almost a year ago and many say that the stunning Dunluce Links at Royal Portrush is superior to most other venues on the Open rota.
Recently, at a family get-together, my uncle told me that he was at The Open in 1951, the last (and only) time it was held in Royal Portrush.  He has many fond memories of the day that he, along with my grandfather and grandmother, followed the Tigers and Rorys of the 1950s across the dunes and valleys of the County Antrim links.  He said it was very exciting to see professional golfers up close.  I'm sure it was – bear in mind that YouTube, The Golf Channel or Sky Sports hadn't been invented, in fact TVs weren't commonplace in every home, so it must have been pretty impressive to see the pros work their magic on the fairways and greens.
Well, 68 years and a few course modifications later and The Open has returned to Royal Portrush. I must say that I was absolutely delighted that Graeme McDowell booked his place at the Open at last month's Canadian Open.  He had hinted that if he didn't manage to qualify he wouldn't be in Portrush during the week of Championship – it would be unbearable.  With our own Darren Clarke, Rory McIroy and Graeme McDowell competing the pressure is on them to perform and chase success on home soil.  Tiger's incredible victory at The Masters proved that he's back and chasing more Majors, so he's a real contender.  He even tweeted a video last week explaining why he was setting his alarm clock for 1am every morning – so his body would adapt to the five-hour time difference between his home in Florida and Royal Portrush. Tiger has never played the Dunluce Links before and after the US Open he said: "I'm looking forward to getting up there and taking a look at the golf course and trying to figure it out.  I hope that my practice rounds are such that we get different winds, especially on a golf course that I've never played, and to get a different feel how it could play for the week."
If Jon Rahm wasn't in the mix already, at the Irish Open he cemented his place as a serious contender for the winner of the Claret Jug. Mind you, we may just hope that he doesn't dress like he did at Wimbledon.  One commentator said, "Jon Rahm was the best player at the Irish Open and the worst dresser at  Wimbledon, drawing the ridicule of fans and players alike." Many of his Ryder Cup colleagues gave him a hard time on twitter for this outfit: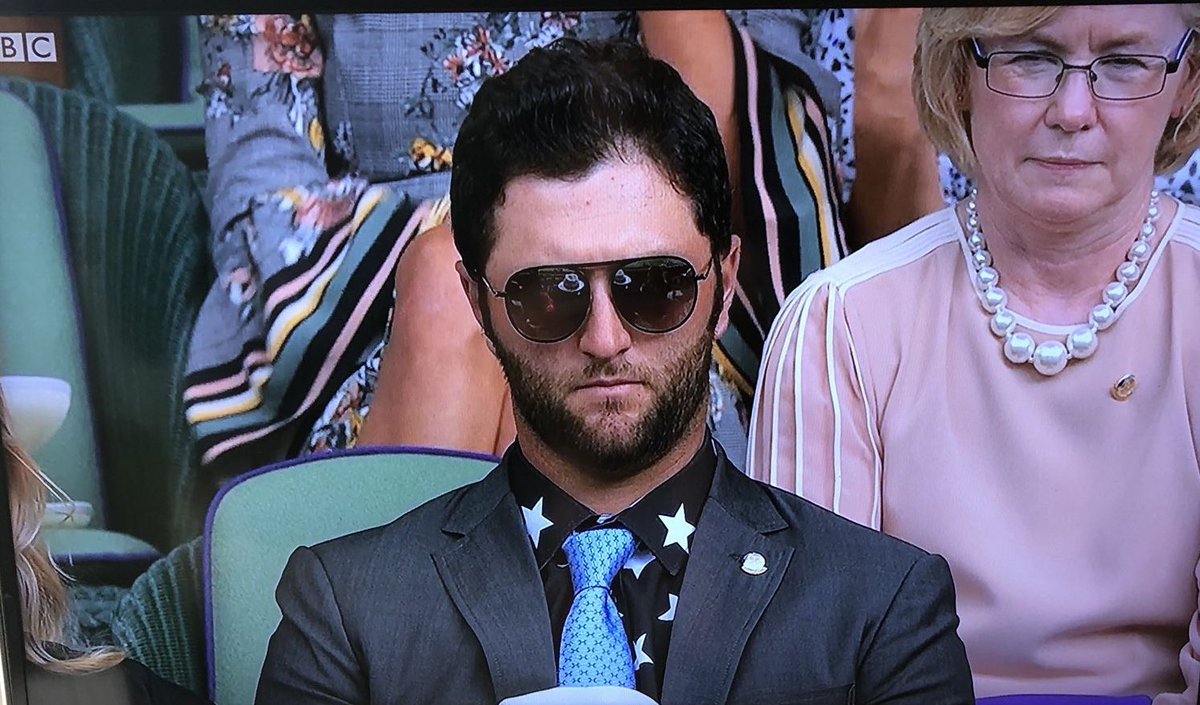 Let's hope that the sun shines so the players and spectators can see the course and the beautiful countryside in all its splendour, but let's hope for some wind too so that the players experience a true links course in normal Northern Irish conditions!